I wouldn't call myself a trend-whore persay... I mean, I'm definitely not that girl obsessing over what the latest trend is so I can call myself fashionable. However, I must admit that I intend to take full advantage of the 80s pop-culture renaissance and wear as much lycra and viscose as humanly possible while I can get away with it!!
I should blame my recent weight gain for my current obsession with all things stretchy. After all, my 5% spandex shorts are SO comfortable (and I don't feel like I might inadvertently amputate something like some of my jeans feel at the moment.) So, jokingly, I posted on
Facebook
today if anyone thought I could get away with wearing bike-shorts all the time considering the resurgence of 80s and mid 90s fashion, mainly because I just bought some bike shorts to wear to the gym and they are SO COMFORTABLE I want to live in them. Then, I googled it....and whaddya know! I am SO on trend for 2010 in my black bike shorts. I should have known considering I didn't even have to go in the athletic-wear section to buy these shorts. Hey, you know what else I love? You'd pay at least $60 for a pair of denim shorts here in the land of Rob-Me-Blind, and I get to laugh all the way to the bank in my $15 pair of trendy bike shorts. I am wearing them with a grey viscose off-the-shoulder tunic tee thing and it feels like I'm in my pjs. This is insane. I cannot believe this is fashion today...
DKNY:
MICHAEL KORS
: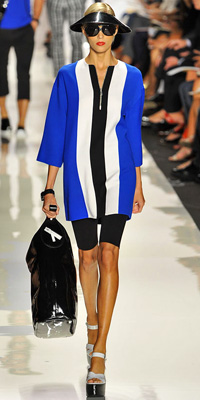 FOREVER21:
Okay, okay, so I don't have pins like these runway models....but I think I can get away with this so long as I keep my booty covered. Like tights for the summer...maybe. Don't judge. :P